How distribution center employers are keeping the supply chain moving
13 April 2020
By Peter Schnorbach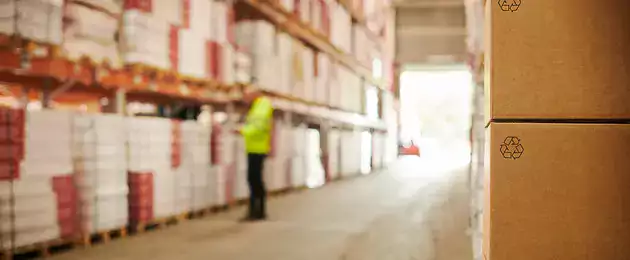 In the midst of the COVID-19 pandemic, distribution centers (DCs) across the country are humming with activity. While so many of us are sheltering in place, warehouse workers are fulfilling huge numbers of orders for both essential and non-essential items. Every day, they expose themselves to risk to help keep supply chains moving and help consumers at home get what they need. What steps are employers taking to protect their workforce? What steps are they taking to encourage their DC workers to show up? And what effects might these temporary steps have on the future of warehouse labor management?
Providing a safer workplace
The focus of the companies we've spoken to is on maintaining the health and safety of employees in their work environment. However, it's getting more difficult to work at a DC and strictly follow social distancing guidelines. No matter what size the warehouse, there are hundreds of people operating in a finite amount of space. The following are some of the steps companies are taking to provide a safe work environment:
Providing masks, gloves and hand sanitizer
Taking workers' temperatures before entering the DC
Staggering break times to separate workers
Sanitizing totes each time they pass through the warehouse
Sanitizing and limiting cross-usage of RF units and headsets
Propping doors open so employees can enter and exit without touching door handles
Some organizations are spraying and sanitizing the entire warehouse at regular intervals
From a technology standpoint, labor management (LM) is helping facilitate greater communication between supervisors and employees, and automating the process of managing the different break times.
Employers are approaching their workforce with empathy as they – and hopefully everyone at home – appreciate the heroic and critical jobs being done every day. That praise is also being supplemented with increased hourly pay, incentives and bonuses to reward workers for the additional work and precautions to encourage high attendance.
An unexpected peak season
The nature of this crisis has forced much of the world's population into their homes. That means, whether they like it or not, nearly everyone is now an online shopper. Predictably, this has led to an explosion in ecommerce orders, creating what amounts to an unexpected peak season in the warehouse.
Companies are using LM technology to measure a potential drop in productivity caused by new safety procedures. However, unlike past peak seasons where LM solutions were primarily focused on maximizing worker throughput and productivity, today's focus is on worker safety. Interestingly, even with extra health-related steps involved, we have not heard reports of impacts to productivity. Workforce appreciation seems to be a critical factor in keeping motivation at high levels.
What does the future hold for DC labor?
Obviously, it's too soon to know with certainty what will happen when the pandemic subsides. Before the pandemic, the vast majority of retail sales occurred in stores. Stores are an integral part of most retailers' sales strategies, and once they open again, a lot of consumers will happily return. However, for many shoppers, the ease and convenience of shopping online – proven over weeks at home – will be a preference going forward. That trend will drive even more demand for ecommerce and, thus, for warehouse workers.
Given that there was already a labor shortage in DCs, and the focus right now is on employee appreciation, it stands to reason that workers will have higher expectations going forward. Offering benefits like healthcare and paid sick leave will likely be key considerations for recruiting and retaining DC labor. Hourly pay, currently increased out of necessity, will probably also remain higher than pre-pandemic levels. If so, LM technology can play a role in helping offset higher wages with increased productivity.
At Manhattan Associates, we look forward to the day when warehouse managers can focus on these post-pandemic issues. For now, we continue to support and salute the work done by individuals in DCs everywhere. Every day, they are risking their health for the greater good – and maintaining the economy in a very tangible way – so that millions of people can get the things they need during a difficult time.
Deliver On Your Promise to Customers
Contact the Manhattan team