Agents Of Change Assemble To Solve Supply Chains & Global Commerce Challenges
31 May 2022
By James Canham Ash
As the leading minds from the worlds of retail, technology & supply chain converged on Miami (for the first time in-person since 2019), we were once again reminded of the power of innovation in the face of challenge & the true value of global community.
With 3 million shipping containers still stuck around the globe, the aftermath of pandemic lockdowns ongoing, inventory & labour shortages widespread, not to mention ongoing geopolitical & economic strife, global commerce is still under a great deal of strain. 
Nevertheless, Manhattan Associates CEO, Eddie Capel struck a positive note as he kicked-off the 2022 edition of Manhattan's annual customer & partner event 'Momentum 2022', calling on all attendees to 'step up to meet these challenges' & work together as agents of change to transform global commerce & supply chains for the better. 
"Every single second that passes, a hundred thousand chemical reactions take place inside each of us. In that same second, four new humans are born & two more pass away. 4,000 more packages are delivered & another 40 tons of garbage is discarded every single second."
"The upheaval we've experienced over the last two years has caused everyone creating demand (& especially those who fulfil it), to adapt the way they plan, engage & process, often in surprising ways." 
He continued by highlighting the paradox represented by change for human beings (& businesses). "Right in the middle of our brain is the amygdala, which sees impending change as a threat, releasing hormones for fight or flight – your body is physically trying to keep you from changing!
"But, change is also where our growth comes from. When your customers changed, you had to respond by becoming agents of change for our industry, so when change happens, the only way to deal with it is to innovate & collaborate."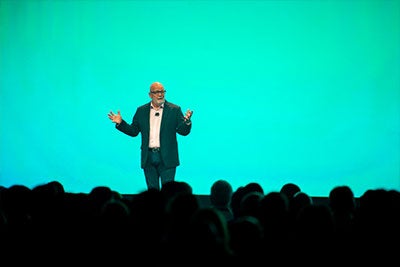 Capel ended his address underlining Manhattan's investment in innovation & its ongoing commitment to enabling more sustainable supply chains & omnichannel commerce: "As we near $500 million of spend in research development in just the last seven years, I can assure you of our commitment to innovation – whether it's low code, no code or your code, you decide when & how you use Manhattan Active Supply Chain Technology.
Finally, in line with our commitment to a more sustainable future, we're excited to partner with One Tree Planted to plant one tree for every Momentum attendee in support of our shared & enduring mission to protect the planet," Capel finished.
CIO at Manhattan Sanjeev Siotia continued the API innovation message next on the mainstage: "We didn't create Manhattan Active technology just so that we could change it. We engineered it for & so that you could also change it, with over 200,000 APIs open to our customer's developer & IT teams. 
"Furthermore, by building cloud native solutions on Google Cloud, we are delivering the high-performance, elastic, high-redundancy, secure solutions that our customers rely on every day. Working with partners like Google Cloud means we are continuing to innovate & push the boundaries of what is possible in terms of the supply chain


& omnichannel innovations that underpin our changing world of global commerce.

"Our commitment to cloud-native solutions & ongoing innovation, in addition to GCP's carbon-neutral cloud, means that the partnership between both our industry leading teams is a perfect match of brand values; not just in terms of technology innovation, but also from a long-term sustainability perspective too," ended Siotia.
Last on stage from the Manhattan team was senior vice president of product management, Brian Kinsella. He was keen to highlight the benefits of supply chain unification, sighting several practical examples of the more unified advances Manhattan's Active Supply Chain platform offers.
"Manhattan Active Omni brings together order management & point of sale enabling customers to buy online & then also conduct transactions in stores; Manhattan Active Supply Chain allows you to make outbound planning changes in real-time & staff distribution centres more efficiently, with the gamification element of Active Warehouse Management providing a five percent improvement in staff productivity.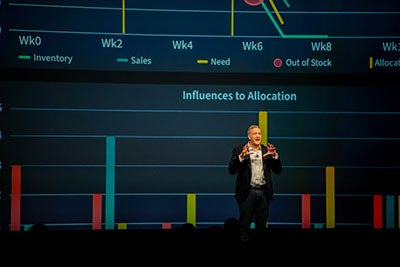 "Manhattan Active Allocation combined with Active Omni provides full lifecycle inventory optimization, whereas Active Omni plus the full suite of Manhattan Active Supply Chain products delivers customer controlled fulfilment, which in turn reduces returns by putting consumers in control of their order, right up until the moment it goes into the delivery van – a win for the customer, brand & environment," Kinsella finished.
Momentum 2022 wasn't simply a platform for Manhattan though. A number of customers also shared their experiences & innovation stories from the last two years, highlighting how the agility, scalability & flexibility of Manhattan's Active Supply Chain suite enabled them to adapt & thrive against the unprecedented challenges of pandemic retail.
Inaugural Active Warehouse Management customer, Pet Supplies Plus returned for another outing at Momentum. Senior Director of Logistics, Jerry Troupe, highlighted how the company's adoption of a modern, cloud-native, mobile solution had delivered substantial & measurable efficiency & productivity improvements across the company's distribution centers even during the pandemic.
Troupe also noted that Pet Supplies Plus had experienced a substantial improvement in overall facility throughput: crediting this productivity lift primarily to the reduced training time, the improved system responsiveness, reliability, & process enhancements that were able to be made as a result of being on the new platform. 
Gen Z retailer PacSun continued the innovation focus with Co-CEO Michael Relich highlighting the power of Manhattan Active Omni. During the pandemic PacSun was able to turn stores into fulfilment centres, (literally) switch on buy-online-pickup-in-store (BOPIS) capabilities & continue to deliver the seamless customer experience its Gen Z consumers had come to expect from the brand.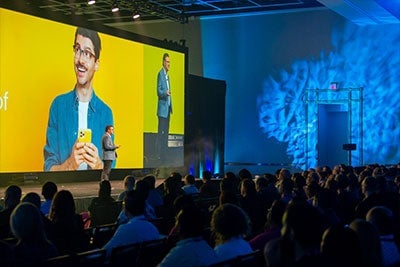 The flexibility & innovation delivered by Manhattan Active Omni enabled PacSun to thrive at a time when many other retailers with more rigid retail systems were struggling.
The Pet Supplies Plus & PacSun stories of success through innovation during trying times are familiar, with jewellery brand Kendra Scott, & Calvin Klein & Tommy Hilfiger owner PVH, both sharing similar experiences during the pandemic thanks to Manhattan's Active Supply Chain solutions.
 
For those who couldn't make it to Momentum 2022 in person, you can catch up on many of the best customer success stories from the likes of Maersk, L'Occitane Group, L'Oréal, Belk, Victoria's Secret Co, not to mention plenty more of the key takeaways & highlights from the likes of Gartner, Forrester & OmniTalk by using the hashtag #Momentum2022, or via our YouTube & LinkedIn profiles.
Deliver On Your Promise to Customers
Contact the Manhattan team