Carhartt Drives Out Costs and Drives Up Value with Cloud-based TMS
"Honest value for an honest dollar."
Like many apparel manufacturers who sell through online and in-store channels, Carhartt reached a point where increasing omnichannel fulfilment challenges required the 128-year-old company to make changes in its supply chain.
The company whose motto is "Honest value for an honest dollar", once again set out and found a way to deliver superior service while controlling costs.
Central to its supply chain project was a commercial transportation management system (TMS) to replace a manual system. The new TMS needed to integrate with existing systems, including Manhattan's Warehouse Management solution.
Results of Carhartt's integration of Manhattan's TMS and WMS, include:
consistently high service levels while keeping costs manageable
improved consolidation and modal optimisation
decreased number of shipments on high-volume lanes with an average weight increase of 82.1002 kg per shipment
Company
Carhartt
Year Established
1889
Annual Revenue
Privately Held
Distribution Centres
1
Number of Employees
5,000+ worldwide
Manhattan Solutions
Warehouse Management, Transportation Procurement, Transportation Planning & Execution
Headquarters
Dearborn, MI
Industry
Manufacturing, Apparel
Customer Overview
Established in 1889, Carhartt is a global premium workwear brand with a rich heritage of developing rugged products for workers on and off the job. Headquartered in Dearborn, Michigan, with more than 5,000 associates worldwide, Carhartt is family-owned and managed by the descendants of the company's founder, Hamilton "Ham" Carhartt.
Watch the video
"Manhattan's expertise in SaaS-driven, cloud-based TMS solutions has been key to the project's success. We don't worry about hosting the software, or getting realtime product and system updates. Manhattan manages that for us. We now have the most current tools available to effectively manage our transport functions."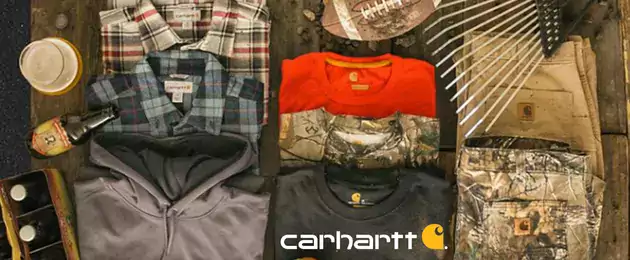 Carhartt Reaches for the Cloud
Carhartt's manual approach to transportation management had outlived its usefulness. Routing visibility was limited, execution functionality was compromised and transport costs were higher than they needed to be.
Just as important to Carhartt was how the TMS would be deployed. It chose a system that would be installed as a Software-as-a-Service (SaaS) and reside in the cloud. Cloud installation would be faster and more cost-effective than a traditional on-premise TMS. Carhartt's internal IT staff would be freed up to focus on other tasks, and not be burdened with installing, managing, and updating an in-house system. If, at some point, Carhartt chose to use a 3PL, it wouldn't have to worry about the type of system the provider used, or if that system was compatible with its IT vendor's solution.

First Phase Yields Immediate Benefits
The first phase of Transportation Management went live in February 2016 to support outbound distribution from Carhartt's national distribution centre in Hanson, KY. Nearly overnight, Carhartt realised meaningful improvements in every transportation metric. Carrier bidding and selection, load planning and lane scheduling were optimised. Carhartt's core carrier partners could predictably schedule their drivers' routes, knowing Carhartt was able to better align its loads with available capacity.
The company is now shipping fewer parcels and more freight, indicating improved consolidation and modal optimisation. The number of individual shipments sent on high-volume lanes has declined, with an average weight increase of 82.1002 kg per shipment on outbound LTL/FTL shipments from the DC.

TMS and WMS Together Enable Flexibility to Experiment with Delivery
"Our TMS gives us greater control and flexibility of our shipping function than we could ever have achieved through our legacy spreadsheet platform. These positive outcomes can happen only with enhanced visibility into our supply chain. We can now offer customers the flexibility to experiment with different delivery methods, which is especially important during peak season." - John Hill, Chief Information Officer, Carhartt, Inc.
Deliver On Your Promise to Customers