Omnichannel Customer Convenience in Retail's New Normal
September 10, 2021
By Manhattan Staff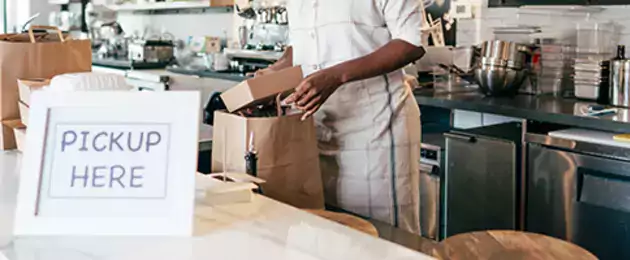 For nearly every consumer today, the buyer journey is no longer linear or isolated to one channel. Everything falls on a continuum of interactions that can result in a sale in virtually any form and at any point. One customer may buy online and pickup in the store. Another may browse online, and then want to schedule a store appointment to try on an item. Still another customer may shop and purchase in a 100% digital manner. To remain competitive, retailers and stores must be able to offer as many shopping and fulfillment options as possible, and engage with them in meaningful ways. 
However, legacy technology systems make carrying out those missions time-consuming and labor-intensive. Despite stores teams' best efforts, the result is often sub-optimal customer experiences and precious time diverted from their other critical responsibilities. Giving customers endless choices and personal service – while maintaining profitability – requires true omnichannel operations. That means leveraging stores as micro-fulfillment centers with efficient picking processes. It means complete inventory visibility and management. And it means next-level engagement that rewards shoppers' loyalty and makes them feel valued. In short, success requires technology designed for the demands, and opportunities, of an omnichannel world.
Let the Consumer Make the Rules 
It's not enough to have a distinctive brand and great products. The past two years have accelerated adoption of online shopping, and fulfillment methods like buy online, pickup in store, curbside pickup and home delivery and more. Those options, offered as a means of survival for retailers, are now permanent fixtures. As a result, shopper expectations have never been higher. These days, they want to dictate how, when and where they interact, purchase and receive their orders. 
Buy through any channel
Select from a real-time view of inventory
Browse the endless aisle so they can always find what they're looking for
Choose any fulfillment option and delivery speed
Use any payment method including pay-by-link or other non-contact methods
Apply promotions across channels

Source: https://www.manh.com/resources/white-paper/accelerate-top-line-revenues… 
Make Service and Support Personal
Shoppers don't just have higher expectations when it comes to buying where and how they want. Their favorite retailers are the ones that can provide timely, individualized service and support. A modern approach to customer engagement requires more than mass emails and basic promotions. 
It means giving customer service reps and store associates easy access to a 360-degree view of the customer that includes: past purchases, wishlists, returns, social interactions and more. That information can help associates offer up a complement when a customer is greeted. It can offer real-time insights and inventory visibility so they can offer relevant alternatives – and generate sales – when a customer comes to the store with a return. 
In short, the right customer engagement solution can be the difference between losing a customer and making one for life. Because it proves to the shopper that he or she is appreciated, with every interaction. 
That may also include:
Digitalizing and personalizing the customer experience 
Enabling stylists to work "side-by-side" with customers, online and in store, through digital catalogs 
Allowing the stylists to use videotelephony to complete purchases
Helping sales associates locate a product at a nearby location if it's unavailable at the store
Empowering store associates to communicate via SMS to improve curbside pickup experiences 
Challenges Create Opportunities
In many ways, it has never been harder to be a retailer. At the same time, heightened complexity and customer demands also give brands a great opportunity to differentiate themselves. Those that can deliver on convenient, personal omnichannel are the ones that will shine. Success starts with a foundation of industry-leading technology designed specifically for modern retail. Manhattan Active® Omni delivers the agility, adaptability and innovation required for profitable omnichannel operations. It removes the barriers created by legacy store systems and allows you to exceed customer expectations and reach your potential.
Deliver On Your Promise to Customers