Darwin Visits Retail
June 11, 2020
By Kevin Swanwick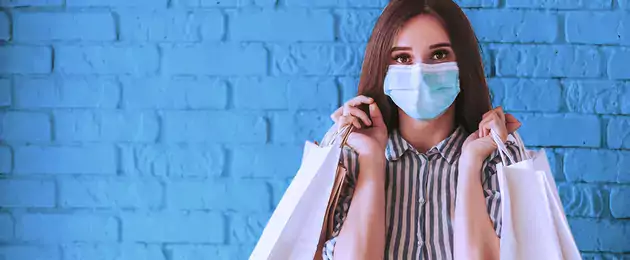 The COVID-19 pandemic has taken us all on an unexpected journey that will have some lasting effects. In the retail community, we are all having our learning moments. One key takeaway, so far, is this:
Adaptability is not a luxury; it is a survival trait.
Consider the role of technology in supporting evolving consumer behavior. The source of demand can easily be obscured by the complexity of the customer journey. At a minimum, brand influence moves between social platforms, ecommerce and store interaction points. Also, customer engagement with a younger, digital native shopper means a more expansive and seamless approach for commerce and service. Every shopper defines his or her journey differently. How well the brand can meet expectations with technology sits at the center of this evolutionary process. And the ability to do so has a direct effect on its chances of surviving.
New technology for new consumers
Prior to the pandemic, consumer behavior was already changing quickly with the rapid entry of Gen Y shoppers into the marketplace. The story has been repeated numerous times, and virtually all retail enterprises have been working hard to accommodate these changes. New demands were already emerging as necessities – inventory availability and high-service selling with rapid fulfillment of orders – just to stay relevant. The pandemic has accelerated these trends even further.
Cloud-native technology and purpose-built, versionless applications have proven to be more agile than their client-server predecessors. This is true for a number of reasons. One of them is the isolation of business functions into microservices. When properly built, these components can be updated on the fly and put into production with zero downtime. Hence, the speed of innovation for adding new capabilities has been dramatically reduced.
Then there is the "purpose-built" aspect. At Manhattan, we have worked hard over the last several years to deliver a uniform set of omnichannel applications for stores, ecommerce, contact centers and even customer self-service. We've learned from some of our innovative retailers that two-way digital communication with shoppers, and a common view of their brand interactions, is necessary to engage with them and stay relevant. Updated demographic reports show us that today's brands are engaging with savvy, digital native shoppers.
Retailers who deployed Manhattan Active® Omni solutions were able to quickly adapt to the rapidly increasing demand for offerings like buy online pickup in-store (BOPIS), ship from store and buy online, return in store. At the same time, they were able to optimize their inventory-against-demand and guarantee use of the most profitable and efficient sourcing locations. This real-time decision making is possible thanks to Manhattan Active's adaptive network fulfillment algorithms. There is some deep science under those covers.
What are these retailers doing now? How is cloud native technology allowing them to adapt? How effective has it been so far? What will it mean for the future?
A gradual reopening process
Before we answer these questions, let's look at the new situation regarding the reopening of brick-and-mortar retail. We see three discrete stages occurring in the same series but differing by geography. They are:
Stage One: "Dark site" stores. Following local social distancing regulations, the retailer is able to safely send a store manager to a closed store location to fulfill customer orders generated online. Behind the scenes, the Manhattan Active Available to Commerce (ATC) system determines which store inventories should be exposed for fulfillment.
Adaptive network fulfillment is used to determine the most profitable location from which to ship particular orders. This allows retailers to effectively move spring merchandise that was delivered to stores prior to Easter. Following safety protocols, employees are able to pick, pack and ship orders from stores using standard shipper integrations. The results? Stores move spring inventory in an optimal way, serving customers, keeping associates employed and generating sales.
Using this approach, Pac Sun-Eddie Bauer was able to maintain a productive workforce and ship an average of 120,000 orders per week, leveraging store inventory during the early days of the pandemic. Instead of dropping the spring season as a lost opportunity, it was able to use this alternative method and move inventory at the same time.
Stage Two: Curbside pickup. Here, the store is not fully open to the public, but is accessible in a limited way that respects safety protocols. A customer is able to place an order online, and then drive to her local store and safely have the merchandise put in the trunk of her car. How is this accomplished? Let's assume the retailer uses Manhattan Store Order Fulfillment and the customer selects curbside pickup.
She placed an order online for curbside pickup up at her local store. She then received an order confirmation with a link to the Manhattan Self-Service application and used the app to notify the store when she arrived. The shopper was prompted to enter the make and model of her car and was given immediate feedback in order to maintain safety protocols but also to let her know, "We're on it!" A store associate brought the order to the car and the customer happily left with item and peace of mind.
A number of Manhattan customers have deployed curbside pickup with stunning success. In one case, Kendra Scott, actually beat its Mother's Day season numbers by leveraging buy online with curbside pickup capabilities. And those numbers were based on its established, all-stores-open sales plan.
Stage Three: Stores open to the public. Though locations are open, the flow of people is metered by the mall, the store or both. Manhattan enables you to adapt in a number of ways here. First, Manhattan Point of Sale (POS) will leverage contactless payments. While we have deployed pay-by-link in Europe, that method has not yet been widely adopted in the U.S. When it is, Manhattan will provide support, as we are doing across Europe with a large French luxury group. Second, if you are using Manhattan Active Customer Engagement, you will be able to schedule and track appointments with customers and allow store associates to prepare for those meetings – be they distanced, look and buy, pickup or just normal shopping at a safe distance in the store.
It seems very likely that some of these new shopping experiences, once established for a shop-local interaction, will persist into the future. And why wouldn't they? Once store professionals are able to seamlessly coordinate with contact center representatives to deliver the best customer journey experience and communicate with customers via their preferred methods—email, SMS texting, integrated social messaging and appointment scheduling—why would they stop? When customer engagement takes hold on an opt-in basis, your stores can become better brand ambassadors, staying relevant and current with a savvier shopper.
Preparing for today and the future
As retail emerges from pandemic restrictions, we shouldn't expect customer behavior to revert to business-as-usual patterns – at least not in all cases. Well before COVID-19, we built Manhattan POS with adaptability in mind. Many of our customers operate a variety of store types, including full-line stores, outlets, flagships, concept stores and pop-ups. A cloud native application that allows one version of software to run on multiple operating systems—fixed or mobile—and on virtually any form factor makes it possible to quickly deploy any of these formats. And that is critical.
If we find ourselves living under a prolonged social distance regime for retail shopping, will contactless pop-up stores be the best approach? Outdoor delivery? From Manhattan's perspective, we want you to be able to make that choice quickly and on an as-needed basis.
Technology should not be a barrier; it should be an enabler.
Manhattan customers have the benefit of knowing our technology will allow them to decide based on conditions on the ground. Survival of the fittest has always been measured by a species' ability to adapt to changing environmental conditions. Having the right technology gene may make all of the difference as we move through this challenging time.
We will have more updates in the near future. In the meantime, let us know how we can help you. We consider our partnership with you more important than ever.
Deliver On Your Promise to Customers