Pressing questions retailers are asking and Manhattan Associates' answers to them
August 31, 2020
By Kevin Swanwick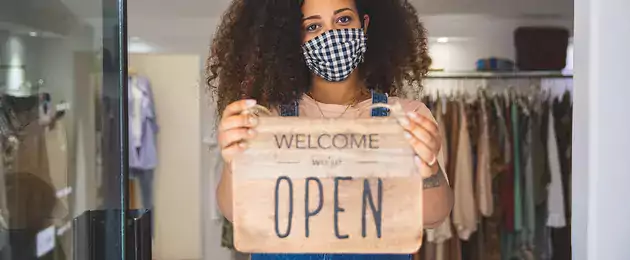 "I know we have to adapt. I don't know if our technology can get us there."
At Manhattan Associates, we talk to retailers every single day. During the course of our conversations, they express concern about the present and uncertainty about the future. Yet we also see a dogged determination and a willingness to act.
The COVID-19 pandemic, and the economic contraction it caused, places brick-and-mortar retailing in the most precarious position we have seen in generations. Technologies that seemed adequate in March now seem obsolete. Retailers have been forced to ask hard questions about their store technologies and their vendor partners' stability and capabilities.
While you assess your own company's health and make adjustments, how are your partners doing? This is your hour of need. From Manhattan's perspective, now is the time to be investing and delivering new technology for retailers – the right kind of technology. The situation also demands an experienced and well-staffed support organization. In short, you need a partner aligned with your mission and shoulder to shoulder with you in carrying it out.
Is your software partner investing in its business or cutting back?
Companies operating on leverage are not able to maintain a fully staffed support team and invest in products – let alone double down on R&D – to meet the rapidly changing consumer landscape. Support teams at Manhattan Associates remain intact: we continue to invest in R&D and release new features every quarter for Manhattan Active® Omni. Our financial health and investment strategy serve each other as fuel for growth.
Are you getting the support you need, during a period when you need it most?
In a matter of weeks, Manhattan implemented a fully controlled curbside pickup solution—not a one-off—enabling our customers to pivot while keeping both staff and consumers safe and engaged with their brands. This strategy allowed Kendra Scott to hit its quarterly store comp numbers, despite the pandemic. Efforts like these require both financial resources and good organization. Unfortunately, economic hardships have forced some of our vendor colleagues to cut back on R&D and outsource support services. As a result, retailers have been left suffering alone. We are here to help.
Is your store technology facilitating the adaptability you need, or is it holding you back?
Point of Sale (POS) systems have become "the long pole in the tent" for store innovation. There are some vendors who have built a business out of integrating partial solutions to these legacy applications. But they still leave the overall innovation strategy slow and cumbersome. We've made our common components extensible, right out of the box. No more upgrades. No more being stuck in the mud with modified POS software. We deliver what you need to be adaptable.
Is your technology vendor offering new innovations that will help you meet the demands of the new normal?
Another frustration we hear about is "the version problem." Retailers usually have clear ideas about how to meet changing market conditions and consumer behavior. But too often, vendors tell them they can have some—but not all—of the new features desired. But even that requires an "upgrade to the new version." This frequently ends the effort before it begins, leaving retailers to fend for themselves. One of the reasons Manhattan committed to cloud native technology early was to eliminate this problem – completely. Manhattan Active Omni offers new innovations every quarter without the need for an upgrade. Test and go.
Is your store technology flexible enough to operate in any store setting, and on any form factor you need?
Many of our retail customers continually experiment with brilliant new brand concepts. Each one of these store formats may require different hardware and form factors to best enable customer engagement.
Manhattan has made flexibility a key part of our product investment strategy. It's a business choice for you; not a technology choice. You choose the devices. You choose the OS. Mix and match them however you want, even in the same store. Implement whatever will work for your associates and customers.
More than just a vendor: a partner
If you're ready to talk, Manhattan is ready to listen. We'll combine our best people with our best technology to offer solutions to the problems you're dealing with and answers to the questions you're asking. Obstacles, limitations and excuses are simply unacceptable. These days, you deserve more support, more innovation and more answers. We're ready to deliver.
Want to set up a conversation with one of our industry experts? We would love to hear from you.
Deliver On Your Promise to Customers