Shifting consumer behavior is driving long-term change for the grocery industry
August 26, 2020
By Manhattan Staff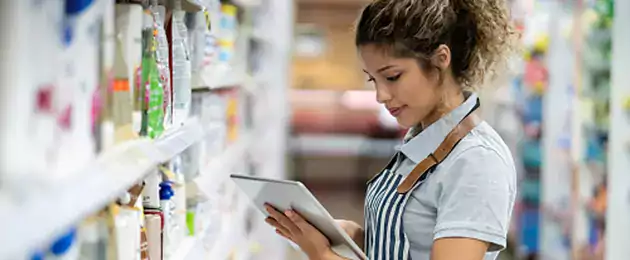 On average, it takes around two months before a new behavior becomes automatic, while the time it takes to form an entirely new habit can vary widely depending on the type of behaviour, the person, and the circumstances.  
The last six months can certainly be classified as exceptional circumstances and we've all had plenty of time on our hands to form new habits such as ecommerce and mobile commerce, that's for sure. As a result, there are few signs that the ecommerce explosion accelerated by COVID-19 is going to retreat anytime soon.
It is a safe bet to continue to believe that the changes to consumer psychology and the way that grocery as an industry has adapted to the pandemic is no short-lived flash in the pan. After all, who would discover a more efficient way of doing something, only to revert back to an outdated, less effective ways of operating?
Coupled with the increasing popularity of purchasing options such as BOPIS and curb-side pickup, this sea-change is likely to be as representative of consumers as it is for grocery stores themselves.
While the boom in ecommerce and a general ability to pivot to options like BOPIS has certainly 'insulated' much of the grocery industry against the very worst effects of COVID-19, there are a number of secondary challenges that organisations must be aware of too.
For example, grocery brands need to be aware of the challenges ecommerce creates from a fulfilment perspective. Offering BOPIS, curb-side pickup or even using stores as 'mini-warehouses' are great short-term options, however, the logistics of actually fulfilling these various alternatives can put significant pressure on supply chains if you don't have the correct strategy or technology in place.
Grocery stores be they small, local independents, or enormous internationally recognised brands must reconcile their previous strategic directions with the changed backdrops they're now operating against.
Effective e-commerce and hybrid fulfillment methods, true omnichannel capabilities, and a relentless pursuit of customer experience, be it through social media channels or physical in-store experiences will prove vital, as will a revised view of technology: on the one hand as a proactive, strategic differentiator, but also as a protective, defensive shield against many of the new head winds impacting the industry.
If we have learned anything from the daily briefings from around the world, is that predictions about how things will develop during this pandemic, or what we should expect next, are impossible to make with any degree of certainty.
While the increased sales in grocery have proved that a rising tide lifts all boats, it is still unclear as to who the genuine winners by channel or brand are at this relatively early stage.
The only thing that we can say with any certainty is that businesses who adopt a fluid, agile and flexible approach to their overall strategic direction will be able to pivot quickly and effectively enough to succeed against whatever backdrop they are presented with over the next 12 months and beyond.
Over the last six months there have been a couple of key learnings that have come to the fore.
First, regardless of what part of the grocery supply chain you work in, (be it the warehouse or DC spaces, delivery networks, or on the shop floors), it's people who power these highly complex networks and it's people that matter most. As such you need to have strategies and solutions in place that recognize and reward the sacrifices and risks your first line defenders each day.
Secondly, at the beginning of the pandemic, there was an initial run on certain staples (milk, eggs, toilet roll, canned foods etc)and a number of supermarkets struggled to keep up with demand and shifting consumer behavior. Moving forward be sure to have technology in place that is as flexible, agile & innovative as your customers are so that everything from first-mile operations, right through to BOPIS and front door delivery can pivot and respond fast.
Whether it's digital self-service, BOPIS or curb-side pickup, super-fast dark-site activation or best-in-class omnichannel capabilities, Manhattan Associates' industry leading solutions and teams of experts (recognized by Gartner & Forrester for more than a decade) are here to help you and your teams navigate the challenges of the "new normal" in the grocery industry.
Deliver On Your Promise to Customers