How Unified Are Your Logistics Processes?
A survey of supply chain professionals conducted by Adrian Gonzales, Adelante SCM, makes a strong business case for taking a unified and synchronized approach to transportation and distribution management.
Historically, many companies have planned and optimized their transportation and distribution processes separately, typically using different software applications, such as Transportation Management System (TMS) and Warehouse Management System (WMS). How unified and synchronized are your transportation and distribution processes today? What are the main obstacles to enabling a unified and synchronized approach?
We asked members of our Indago supply chain research community -- who are all supply chain and logistics executives from manufacturing, retail, and distribution companies -- those questions in a recent survey.
A large majority of the survey respondents (83%) said their transportation and distribution processes are either "Moderately" (40%), "Slightly" (20%), or "Not Unified/Synchronized at All" (23%); only 3% said they were "Extremely Unified /Synchronized."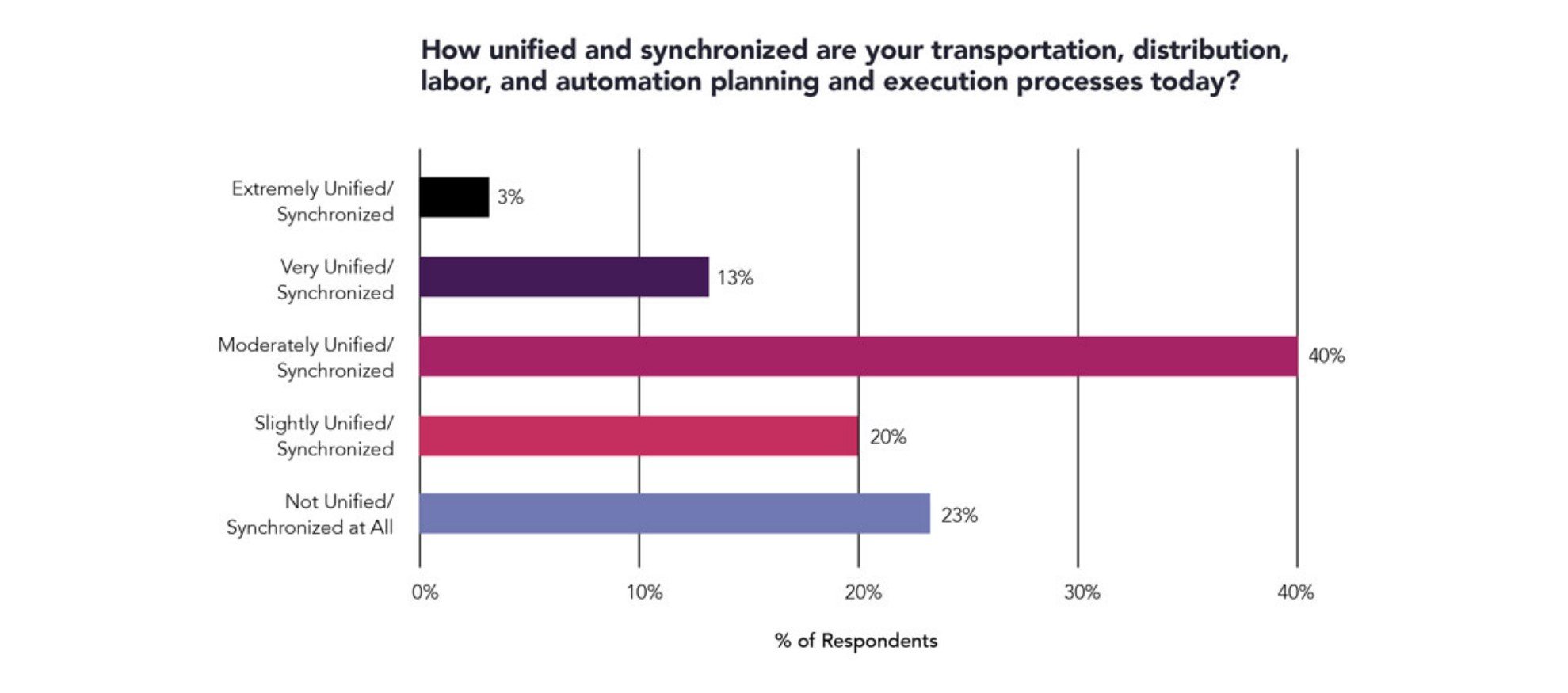 Source: Indago survey, March 2022 (n = 30)
Of those with "Extremely/Very Unified" processes, 80% of them credited "Our software applications are well integrated" as a key enabler. In terms of the biggest obstacles to enabling a more unified approach, "We lack cross-functional optimization capabilities" received the most votes (56%).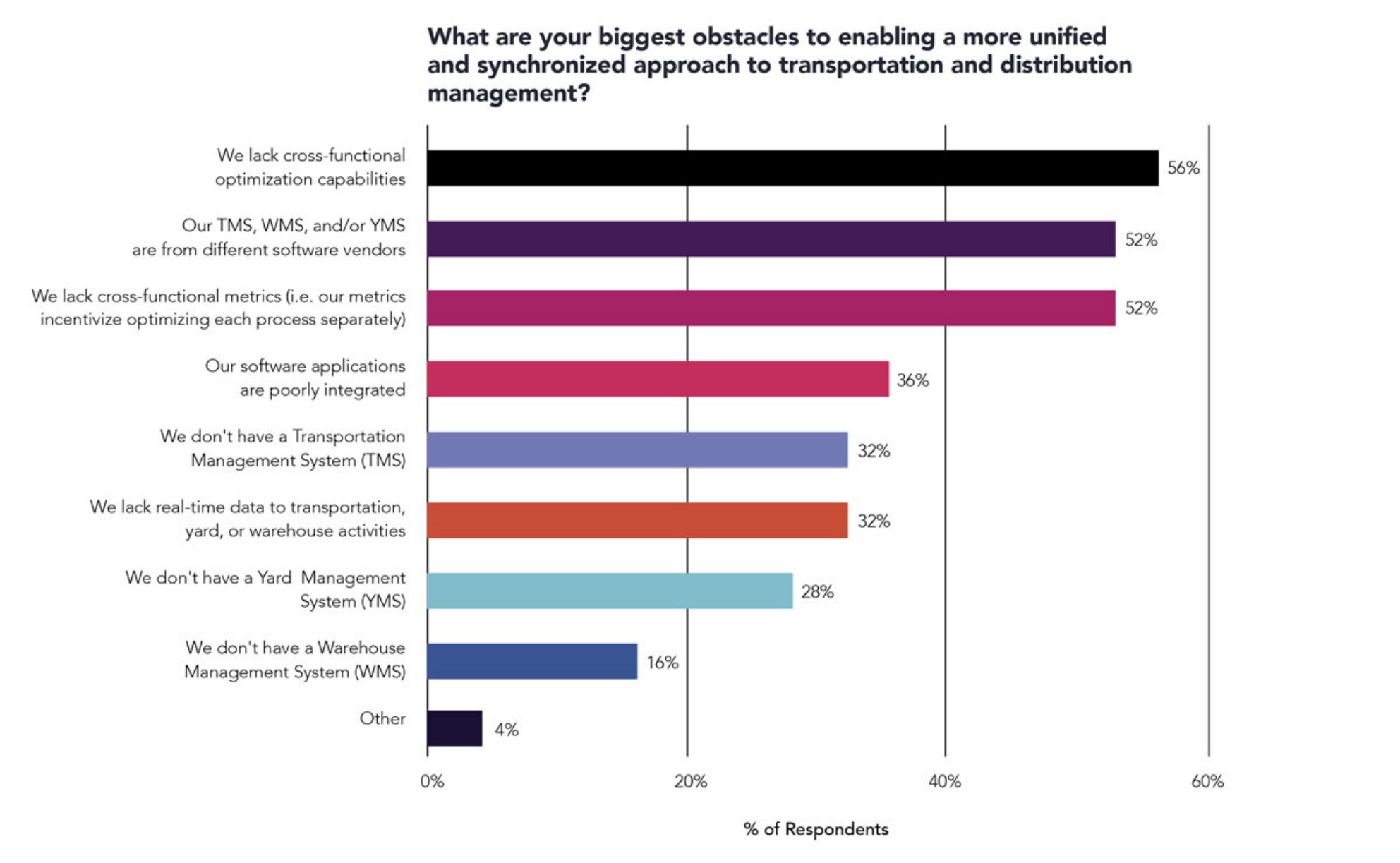 Source: Indago survey, March 2022 (n = 25)
Takeaways from Survey Results
So, what do these results tell us?
First, even though analysts, consultants, and technology vendors have talked about the need and importance of breaking down the silos between supply chain processes -- especially between transportation and distribution management -- few companies have been able to achieve this goal.
Second, from a technology standpoint, taking a unified and synchronized approach is difficult if the software applications you're using come from different vendors and/or they're not well integrated. This is particularly true if companies are using software applications based on older architectures (e.g., applications that are not using APIs and web services).
The survey results also suggest that there is a missing technology piece too: optimization capabilities (and workflows) that span across the different processes. So, even if you have TMS and WMS that are well integrated from a data sharing perspective, you also need to optimize in a more integrated and holistic way too -- i.e., an optimization engine that takes transportation, warehousing, and yard resources, constraints, and activities into consideration to achieve cross-functional objectives.
Related to technology, but not captured in the chart above, is the role that third-party logistics providers (3PLs) play for companies that outsource one or more of their logistics operations. As one Indago member commented, "We have very little system integration at this point, as our warehouse and transportation management are currently outsourced to different 3PLs with little to no connectivity to our ERP system."
Another important takeaway is that technology is not enough; you also need to have cross-functional metrics and incentives in place to move away from thinking and working in silos. As one Indago supply chain executive commented, "Good callout in the survey about the inefficiencies that can be created by conflicting priorities between distribution and transportation. It is essential to have Key Performance Indicators (KPIs) that balance the two functions more strategically."
Another executive added, "For one thing, both areas [transportation and distribution] need to report to the same executive."
Potential Benefits of Taking a Unified Approach
If you overcome those barriers and are able to eliminate the silos between transportation and distribution, what potential benefits can you achieve?
"Utilize real-time shipment visibility to automatically adjust inbound appointment schedules" received the highest percentage of combined "Very High Value" and "High Value" votes (72%). Rounding out the top three were "Better match warehouse labor requirements with inbound arrivals" (65%) and "Reduce/eliminate carrier wait times and detention fees" (62%).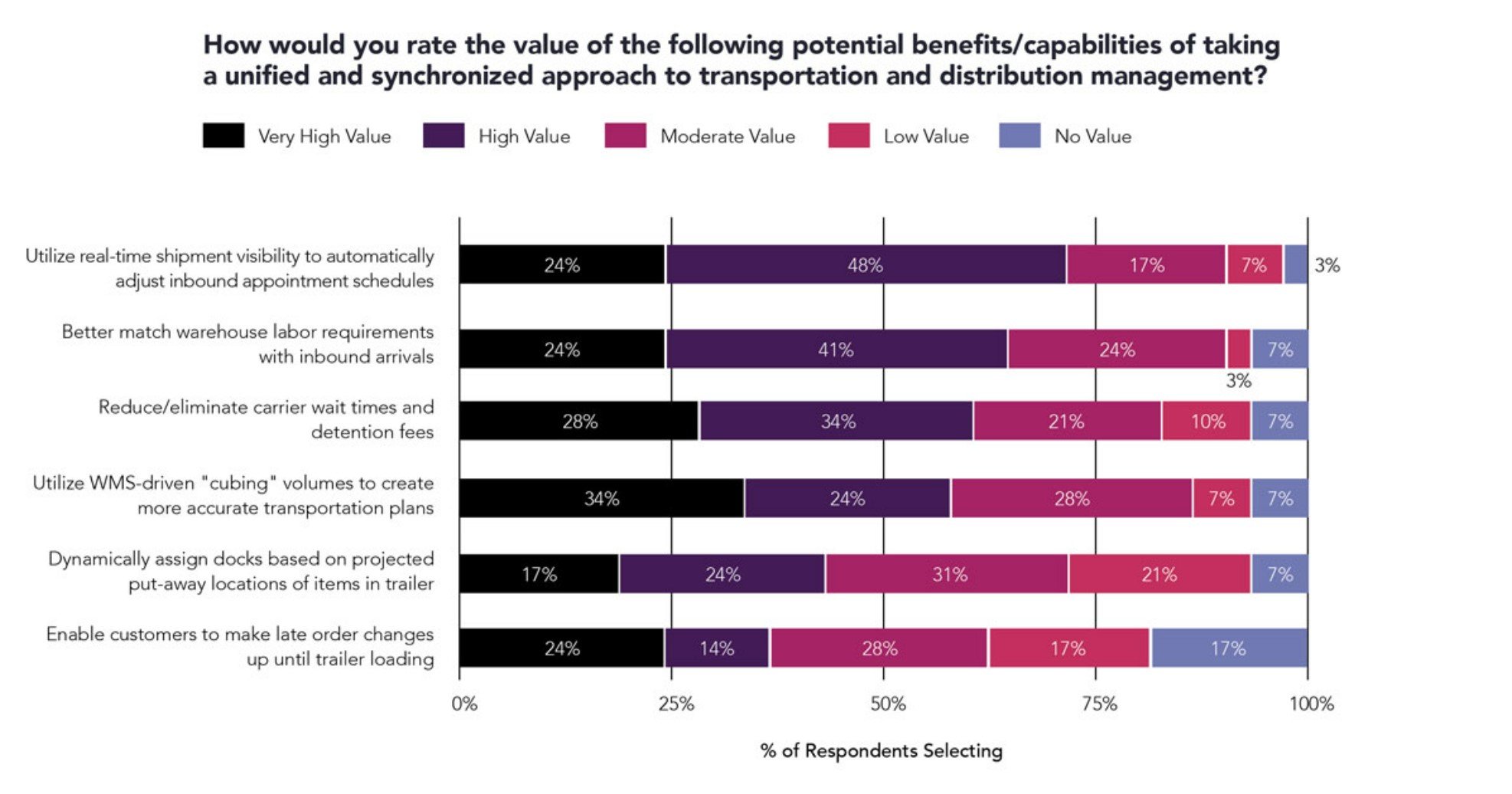 Source: Indago survey, March 2022 (n = 30)
Four out of the six potential benefits/capabilities received "Very High Value" or "High Value" ratings from at least 58% of the survey respondents. And there are certainly more potential benefits than the ones included in the survey. Therefore, it is clear that a strong business case and value proposition exists if companies are able to take a unified and synchronized approach to transportation and distribution management.
"The potential benefits of taking a unified approach related to labor and shipment scheduling, as well as reducing detention charges, are most desirable," said one Indago member. Here are other Indago member comments:
"Our company has added TMS to our business strategy, and this has helped gain productivity in transportation. Our WMS is a different system which does hinder some strategies versus if the two were on the same vendor platform. Master data is an important factor in these two systems, and we have been continuously improving this part of the business. Our wish list would be better cross dock functionality, yard management system, WMS cubing volume for better planning, and more efficient freight pay systems."
"Our wish list items include better planning and optimizing loads considering existing orders and planned/forecasted orders; knowing when it's better to hold onto orders for a little bit longer until new orders come so as to better optimize the freight and reduce transportation costs vs. impact to the customer experience."
"Our wish list of capabilities includes having a control tower and visibility solution so we can take a more unified approach and better understand where our shipments are going."
The Bottom Line
There is a strong business case for taking a unified and synchronized approach to transportation and distribution management. But to achieve these potential benefits, companies have to overcome several technology hurdles, including poor integration between many disparate software applications (and between different 3PLs too) and a lack of cross-functional optimization capabilities.
The good news is that continued advancements in technology, including a move toward web services architectures and innovations in optimization algorithms, are helping to address these issues. Another big hurdle to overcome is moving away from thinking and working in functional silos. Establishing cross-functional metrics (such as a balanced scorecard) and having executive leadership with cross-functional responsibility are key enablers.
About the Author
Adrian Gonzalez, founder, and president of Adelante SCM is a trusted advisor and leading industry analyst with more than 20 years of research experience in transportation management, logistics outsourcing, global trade management, social media, and other supply chain and logistics topics.
In addition to launching Talking Logistics, Adrian established Adelante SCM, a peer-to-peer learning and networking community for supply chain and logistics executives and young professionals. He is also the founder of Indago, a market research service that brings together a community of supply chain and logistics practitioners who share practical knowledge and advice with each other while giving back to charitable causes.
Prior to his current roles, Adrian held various leadership positions at ARC Advisory Group, Motorola, Polaroid, and Clare. Adrian speaks frequently at industry events and conferences and is regularly quoted in industry publications. He is also a member of the Council of Supply Chain Management Professionals (CSCMP) and is a LinkedIn Influencer.
Get Instant Access
Learn how to take a unified approach to your logistics process today.
Related Assets
Transportation Management
Orchestrate every carrier, rate, route, and load with Manhattan Active® Transportation Management, engineered to adapt and grow with your business needs.
Warehouse Management
Control demand, supply, labor, and automation across your entire network with Manhattan Active® Warehouse Management. The leading cloud-native, evergreen, and extensible WMS in the industry.