Types of POS Systems: What You Need to Know
March 14, 2023
By Manhattan Staff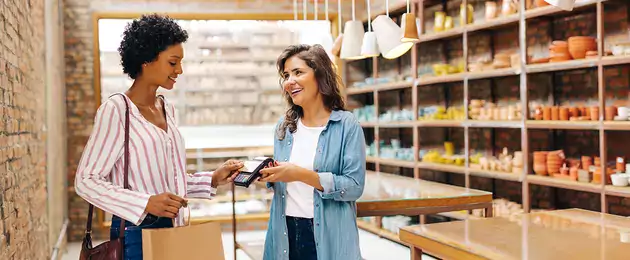 Today's retailers use various types of point of sale (POS) systems, depending on the needs and industry of the business. From traditional brick-and-mortar stores to ecommerce websites, there are many ways to transact and interact at the point of sale. The nature of when and where that transaction takes place dictates whether or not a business will need a mobile POS, traditional POS, terminal POS, tablet POS, self-serve kiosk POS, or a cloud-based POS. However, the options have not always been this diverse.
From bartering and livestock to cash and credit cards, an equitable exchange is the heartbeat of commerce and what drives economic transactions. The origin of today's different types of POS systems can be traced back to the first cash register created in 1879 by James Ritty to keep a record of transactions in his saloon. The cash register was modernized in the 1970s by IBM who created the first POS system, which allowed merchants to electronically track transactions.
Now, POS systems are at the core of the unified commerce experience, and it is important to know the differences between the types of POS systems available to evaluate what is best for your company's specific business needs. POS systems play a crucial role in modern commerce by allowing businesses to efficiently manage transactions, track inventory, and gather customer data, and picking the right POS is vital to a successful retail experience.
What Are the Different Types of POS Systems?
Advances in modern technology have provided us with various types of POS systems available in today's market, each with its own unique features and benefits. The following list aims to provide a comprehensive overview of the different types of POS systems. By understanding the key characteristics of each type, businesses can make an informed decision when choosing a POS system that best fits their needs. This article further touches on the different uses, features, and benefits of each POS system type
Traditional POS Systems
Mobile POS Systems
Terminal POS Systems
Tablet POS Systems
Self-Service Kiosk POS Systems
Cloud-Based POS System (Cloud Native)
What is a Traditional POS System?
A traditional point of sale (POS) system refers to a computerized system that is present in traditional brick-and-mortar retail stores, restaurants, and other customer-facing businesses that enable merchants to record transactions. Traditional POS systems are mainly used for transactions, such as selling goods or services, processing payments, and generating receipts. In addition to recording transactions, traditional POS systems can be used for inventory management, customer tracking, and generating sales reports.
What Are the Common Features of Traditional POS Systems
While specific features of each traditional POS system are going to vary depending on the manufacturer's specifications, however, the following are common features included with traditional POS systems:
Lookups for products and prices
Credit card processing
Inventory management
Sales tracking and reporting
Customer relationship management (CRM)
What Are the Benefits of Traditional POS Systems?
Increased efficiency: Traditional POS systems can significantly speed up the checkout process, reducing wait times and improving customer satisfaction.
Accurate record-keeping: A POS system provides a clear, accurate record of all transactions, making it easier to track sales and inventory.
Streamlined operations: POS systems can integrate with other systems and automate many manual tasks, freeing up time for employees to focus on other important tasks.
What is a Mobile POS System?
Mobile POS (mPOS) systems have the features of a traditional POS system but are available on mobile devices. Mobile devices can range from smartphones to tablets and enable mobile checkout on the go. This type of POS system is common for small and medium-sized businesses but has also become more common for larger businesses where the point-of-sale system needs to be flexible and scalable. Some common uses for mobile POS systems include:
Retail applications for pop-up stores, trade shows and events
Onsite transaction processing for service-based businesses
Restaurants with takeout and delivery order processing
What Are the Common Features of Mobile POS Systems?
As mentioned previously, mobile POS systems have many of the same features as other point-of-sale systems, however, they include the ability to be mobile. Many have applications on smart devices which allow features to be added and updated frequently. Below is a list of common mobile POS system features:
Payment flexibility: Mobile POS systems typically support credit and debit card payments, as well as other payment options such as contactless payments, mobile wallets and gift cards.
Inventory management: Many mobile POS systems come with inventory management tools that allow merchants to track stock levels, manage product listings, and generate sales reports.
Clienteling and customer management: Some mobile POS systems also offer customer relationship management (CRM) tools, allowing merchants to store customer information and purchase history, and to send personalized promotions and offers.
360-degree customer insights, reporting, and analytics: Mobile POS systems often provide real-time data and analytics, allowing merchants to track sales trends, monitor customer behavior, access history of every customer interaction with your brand, and make informed business decisions.
What Are the Benefits of Mobile POS Systems?
Mobility: Mobile POS systems allow merchants to process transactions from anywhere, making them ideal for businesses that operate outside of a traditional brick-and-mortar setting.
Affordability: Mobile POS systems are often more affordable than traditional point of sale systems, and are often sold as a monthly subscription service, which eliminates the need for a large upfront investment.
Mobile POS systems are designed to be user-friendly and can be set up and used with minimal training.
Increased sales: By offering customers more payment options and a more convenient checkout experience, mobile POS systems can help merchants increase sales and boost customer satisfaction.
Overall, mobile POS systems can offer a convenient, cost-effective, and flexible solution for businesses of all sizes.
What is a Terminal POS System?
A terminal POS system is a combination of hardware and software typically present at brick-and-mortar merchants, retailers, and restaurants. Attributes of this kind of system include a physical terminal or device, card reader, receipt printer, and display screen. The software is typically installed on the terminal and allows the user to interact through the display screen. The following are common uses for terminal POS systems:
Use in retail stores to process transactions, payments, and keep track of inventory and customer information.
Managing tables, processing payments, and taking orders in restaurant environments.
Patient billing in hospitals, clinics, and healthcare facilities.
What Are the Common Features of Terminal POS Systems?
As mentioned with mobile POS systems, terminal POS systems contain many of the same features as they fall into the traditional POS model. Below are some of the common features of Terminal POS Systems:
Payment processing: Terminal POS systems are designed to process a wide range of payment methods, including credit and debit cards, gift cards, and contactless payments.
Inventory management: Terminal POS systems can track inventory levels and sales data in real time, making it easier for store owners to manage their stock and make informed purchasing decisions.
Customer management: Terminal POS systems can store customer information, such as contact details and purchase history, allowing businesses to provide personalized service and create loyalty programs.
Reporting and analytics: Terminal POS systems generate a range of reports and analytics, including sales reports, inventory reports, and customer behavior insights, which can be used to make informed business decisions.
What Are the Benefits of Terminal POS Systems?
Efficiency and Speed: As an alternative to a traditional cash register, terminal POS systems are typically much faster, freeing up personnel and wait times.
Secure and Accurate Transactions: Designed with security in mind, terminal POS systems can help mitigate fraud and the risk of errors.
Enhanced Customer Experience: Because a terminal POS system can save customer data, this enables customer loyalty programs and a more customized user experience for each customer.
Terminal POS systems have historically been key tools for brick-and-mortar retail businesses, offering a range of features and benefits that can help improve sales, enhance customer experience, and streamline operations. Many of these benefits can now be obtained by mobile POS systems as well.
What is a Self-Service Kiosk POS System?
Self-service kiosks POS systems have become more popular in recent years. This form of contactless ordering can be seen at places of early adaptation of the technology, including fast food restaurants, grocery stores, large retailers, and movie theatres. Listed below are some common uses:
Fast food and quick service restaurants: Kiosks can streamline the ordering process and reduce wait times.
Retail stores: Kiosks can be used as a self-checkout option, allowing customers to bypass lines and complete their transactions quickly.
Amusement parks: Kiosks can be used to purchase tickets, rent lockers, and manage other park-related activities.
What Are the Common Features of Self-Service Kiosk POS Systems?
Many of the types of POS systems we have mentioned previously have many similar common features with slight variants. Due to the implementation of self-service, self-service kiosk POS systems have more distinct features than others. Common features for this type of POS can be found listed below:
Touchscreen interface: A user-friendly, intuitive touchscreen interface makes it easy for customers to place orders and make selections.
Integration with existing systems: Kiosks can integrate with existing systems such as inventory management, payment processing, and customer relationship management (CRM) software.
Customizable interface: Businesses can customize the look and feel of their kiosk interface to match their branding and customer experience goals.
Product and menu updates: Kiosks can be updated in real time to reflect changes in products, prices, and menus.
Reporting and analytics: Kiosks can provide real-time reporting and analytics to help businesses make data-driven decisions in many of the ways previously mentioned.
What Are the Benefits of Self-Service Kiosk POS Systems?
Improved customer experience: Self-service kiosks can improve the customer experience by reducing wait times and offering convenient self-service options.
Increased efficiency: Kiosks can reduce the need for human labor and increase overall efficiency, which can result in cost savings for businesses.
Increased sales: By offering a convenient, efficient purchasing option, businesses can potentially increase sales and revenue.
Data collection and analysis: Kiosks can collect valuable data on customer purchasing habits and preferences, which can be used to make data-driven decisions about product offerings and marketing strategies.
What is a Cloud-Based POS System?
A cloud-based POS system or cloud native POS software is a type of POS that is accessed via an internet connection and is hosted on private secure servers at a different location than that being accessed by the POS client. Typically, a business with multiple locations such as a large retailer will implement a cloud-based POS system to have access to their data regardless of the store or facility location. This is essential for the unified commerce experience and becoming a modern standard practice for most large retailers. Common uses of cloud-based POS systems would be retail chains, franchises, and other settings where a traditional POS system is not practical.
What are the Common Features of Cloud-based POS systems?
Below is a list of common features of most cloud-based POS systems. Some of these are also features of other POS system types, while other features are unique to a cloud native system.
Product Catalogs and Omnicart: This will provide staff with the ability to look up inventory and complete orders initiated by any channel, and, as a result, best fulfills the customer experience and allows for optimal upselling.
Clienteling and Customer Management: This provides access to customer data regardless of the previous purchase channels, allows for customer communications, and customer profile management.
Endless Aisle: Cloud-based POS systems can have a holistic view of inventory regardless of store or fulfillment location. This results in increased sales as well as increased customer experience.
Flexible Payment Processing: Mobile checkout with support for contactless payments and shared payment terminals.
Reporting and Analytics: Cloud-based POS systems can provide holistic, real-time analytics on customers, stores, and inventory, and identify trends and tendencies that can be used to improve the supply chain and unified commerce experience.
Many cloud-based POS systems operate on mobile devices.
Multi-Location Support: Cloud-based systems are accessible at multiple locations.
Offline Resilience: The market-leading providers of cloud-based POS systems ensure that there is offline resilience, meaning that it can still function and store information will still be available when the system goes offline.
What Are the Common Benefits of Cloud-Based POS Systems?
In addition to the above-mentioned differentiating factors and capabilities, there are several benefits to choosing a cloud-based POS system:
Access to data from anywhere with an internet connection
Automatic updates and backups
Enhanced security
Scalability
Ability to integrate with other software and apps
Overall, Cloud-based POS systems can be an ideal choice for businesses that need a flexible, accessible, and scalable POS solution or businesses with multiple locations and a large inventory to manage.
Manhattan POS Solutions
At Manhattan, we strive to be industry leaders and on the cutting edge of innovation. Manhattan Active® point of sale software delivers resilient cloud-native store selling and engagement on any form factor, global promotions, and omnichannel cart support. When deployed with Manhattan Active® Omni omnichannel retail solution, retailers can unify commerce within a single cloud-native application built from microservices for profitable omnichannel experiences. The result, retailers are empowered to sell, engage, and fulfill anywhere.
Deliver On Your Promise to Customers