What is Point of Sale and a Point of Sale system?
October 27, 2022
By Manhattan Staff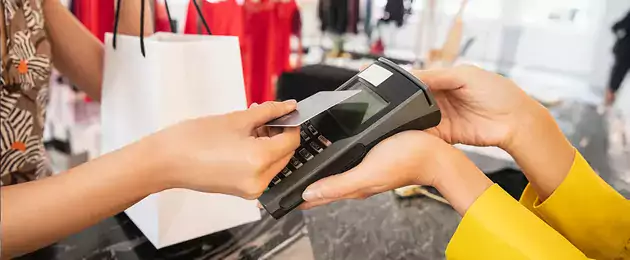 Traditionally, a point of sale (POS) was the location and time in a retail store where customers' transactions were completed. For decades, a POS was another name for the store's checkout counter. It was the place where associates checked out customers, took payments, and completed transactions. Recently, the role of a point of sale has expanded as retail experiences have changed.
How Does Point of Sale Work?
A POS system is the hardware and software that helps businesses take payments from customers and complete sales in the store. While POS used to refer simply to a cash register, the best POS systems today help retailers facilitate a range of omnichannel tasks including store inventory and fulfillment, customer engagement, order management and more. Many leading retailers, including Walmart, have switched to cloud-native POS systems that enable modern experiences and empower store associates to work more effectively.
Why has the Role of Retail Point of Sale Changed?
The pandemic forced retailers into survival mode and as stores were shut down, and accelerated the adoption of a host of emerging fulfillment choices like buy online, pickup in-store (BOPIS), curbside pickup and ship from store. Even though retail locations are back open and customers have returned to in-person shopping, they learned to love the convenience of digital commerce. Those fulfillment methods are now part of retailers' core capabilities, meaning the role of stores has permanently changed.
Brick-and-mortar locations are now a continuation of the digital experience. They are simultaneously fulfillment hubs, personalized customer service centers, places to process online returns and exchanges, and more. Today retail store locations must be able to execute unified commerce.
Joe Kamara, Manhattan Associates retail expert explains: "Unified commerce means having a single view of inventory and customers. Today, transactions now equal orders plus sales. So, retailers must increasingly be able to process purchases that combine orders and sales from in-store and online transactions."
The foundation for unified commerce is a modern POS solution. Without it, frictionless customer journeys and long-term profitability become increasingly more difficult.
Key Elements of Point of Sale Software
Modern stores are experiential showrooms, customer service centers, and mini-warehouses that require a next-generation point of service store solutions to enable brands to sell, fulfill and engage anywhere and everywhere.
Exceptional Shopping Experiences
Customers have much higher expectations from retailers than they did even three years ago . Today, they expect to control the buying journey. They want to decide when, where and how they make purchases and returns. They demand seamless experiences across channels. And they want to be known and appreciated by a store associate the moment they walk into the store.
Capabilities a POS Needs to Meet These Expectations Include:
Global visibility into 'endless aisles' of inventory to support pickup at the local store, other stores or home delivery.
Two-way messaging capabilities between the shopper and associate during clienteling and curbside pickup.
Tailored wish lists available to any associate that interacts with a customer in any channel.
A unified cart that easily allows additional purchases during an in-store pickup, returns or exchanges.
Intuitive Associate Experiences
As with virtually every other industry, there is a labor crunch in retail. Leading brands must have POS software that helps new associates get up to speed quickly with an intuitive user interface (UI) that is empowering and easy to use.
A Modern POS Should also Provide:
Guided, mobile workflows for picking, packing, shipping and selling.
A user-friendly UI experience across all form factors and operating systems.
A single app for payments, promotions, checkout, exchanges, returns, shipping and more.
Customer engagement tools that help the associate deliver personalized experiences.
Omnicart , or unified cart, with enterprise promotions for upselling and cross-selling across channels.
A global view of inventory to allow selling even if an item is out of stock in a given location.
Technology Transformations
As the last few years have shown, agility and flexibility are key survival traits in retail. A store POS that is capable of handling orders and sales, managing inventory, and customer-facing functionality helps retailers stay ahead of trends and changing conditions.
That means a POS Should Also be Able to:
Offer 100% resiliency so that all store activities can continue even when the network is compromised.
Manage payment flexibility that allows for contactless, cashless and multiple payment methods within a single transaction.
Deliver innovation and new capabilities continuously to keep up with changing consumer preferences and behaviors.
Operate in an always-current mode, eliminating the need for upgrades.
Technology Attributes of the Best Point of Sale Software
Despite the demands of omnichannel retail, much of the industry is still burdened with legacy solutions. They have separate systems for point of sale, order management, customer engagement and so on. The silos created by this kind of architecture is limited by large monolithic databases, customizations that must be repeatedly duplicated for every upgrade, and an untenable number of integrations.
Leading point of sale software providers like Manhattan has taken an entirely different approach. Three characteristics define a new approach to application technology: cloud-native; 100% microservices; and a unified platform.
Cloud Native
The term "cloud" has become generalized to cover any solution being maintained outside the walls of an enterprise. Typically, terms like "runs on the cloud" or "hosted in the cloud" represent legacy architecture that has been modified to run in a remote data center. Solutions like these do not take full (or often any) advantage of cloud architecture. They still struggle with issues like extensions, implementations, upgrades, scalability, and more.
Conversely, "cloud-native" applications are born in the cloud, capitalize virtualization and containerization, use APIs extensively and leverage the scalability of the internet to autonomously harness vast amounts of computing power. These differences make them significantly more scalable, dependable and affordable. They also are the only solutions that can meet the needs of modern retailers.
100% Microservices
The right POS solutions are built entirely with microservices, or discrete functional components that eliminate the need to duplicate capabilities and data. That means they never need upgrading and they are fully extensible, which allows companies to plug in their own innovation without impacting future updates. They are also scalable, automatically adding capacity to meet spikes in demand and then reducing it when the needs lessen. A microservices architecture also seamlessly and continuously adds new innovations and capabilities over time. It is designed specifically and uniquely for an omnichannel world.
Unified Platform
As stated earlier, traditional retail technology setups are piecemeal, with different solutions for every function. Although brands devote a lot of effort into trying to integrate them, the legacy model inevitably creates silos.
The best point of sale solutions are built for omnichannel retail. They are architected on a single platform which opens the door to unification and flawless, modern experiences. Rather than separating stores and digital commerce, brands can support the consumer's interactions, regardless of how he or she decides to buy, fulfill, return or exchange. Unified operations give everyone in the organization the same, 360-degree view of the customer, which allows for tailored service. As well as total visibility to inventory in every warehouse and every store, along with the ability to leverage it as needed.
Manhattan Point of Sale in Action
Lamps Plus is the largest lighting retailer in the U.S. As a longtime partner of Manhattan, the company wanted to upgrade from a traditional POS to a best-in-class solution that enabled omnichannel experiences. After a rapid, six-month implementation, Lamps Plus saw immediate benefits.
Lamps Plus Chief Financial Officer Clark Linstone said, "Manhattan Point of Sale provides our store associates with a holistic and comprehensive view of the customer so they can anticipate and quickly respond to any need."
The retailer has plans to grow its omnichannel operations even further using Manhattan POS as the technology anchor. 
What do your omnichannel retail goals look like? Schedule a demo and see for yourself how Manhattan Point of Sale can help bring you to achieve them.
Deliver On Your Promise to Customers